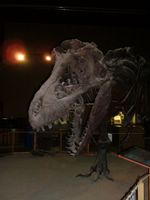 T-Rex

Today we headed to Thermopolis to do laundry and to see either the Thermopolis Hot Springs or the Dinosaur Museum. The day went a little funky because we didn't get out of here until late. Then when we got to the laundromat, half the washers and dryers weren't working. So, we spent way too much time in there trying to get laundry done. Afterwards, I had an hour to get to the museum and back to the vans. It took 15 minutes to walk there, 30 minutes inside the museum and 15 minutes back to the van. It was a small museum, thank goodness, and I just flew by the exhibits because there was just no time to stop and read. I feel bad for the hot springs people though because they never made it over there.
Have I mentioned how ready I am to come home? I am very homesick right now and it's not a good thing because I've been snappy with people. Although, in some cases I feel it's justified.
I want to let you know that starting on Monday I have kitchen duty and will try to get time to be online for my blog but if I miss a day or so just know that it's because of that coupled with our normal work and lecture schedule.
Will close for now. I skipped dinner tonight because I'm irritated with someone here but I still have KP duty so I'll touch base with you again tomorrow. Hope you like the picture of T-Rex!
Big Hugs to all....I'll be home soon!
Paleogirl Rene