Monday, May 26, 2008
You Are Pocahantas!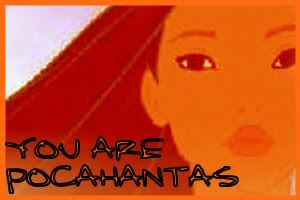 Free-spirited and wise. You have a strong passionate spirit that touches and changes all who know you. The wisdom and common sense that you have is really what guides you through life. Even so, you also have a very playful side that loves adventure and excitement.
Which Disney Princess Are You?
That is
SOOOOO
me!!
Posted by

Rene
at 9:14 AM
1 comment:

Friday, May 09, 2008
YAY!! I survived the semester even though I wasn't sure I was going to! But I finished
somewhat
intact and that's all that matters....except that I have to start back next week to get some summer projects done, but at least I won't be taking classes...
and...
now I get to scrapbook a little more often...YAY!! Below is a layout I did today for 30 Minute Thursday sponsored by Lain Ehmann at
Scraphappy
, one of my favorite blogs! You may recall that I did the challenge in January where I scrapbooked a page a day. That was also done by Lain! She's such an inspiration and I find she is a
real-down-to-earth
kind of scrapbook artist. She's also an active voice for literacy and a talented knitter! Plus, God love her, she always has issues with her
#@$#%%
computer...just like the rest of us! Stop by Lain's
blog
...I know you'll love it!!
Posted by

Rene
at 11:34 AM
2 comments: